2023 Guide to La Jolla Neighborhoods
Posted by Robert and Joy Aumann on Monday, August 28, 2023 at 9:22:34 AM
By Robert and Joy Aumann / August 28, 2023
Comment
With over 32,000 people living in La Jolla, it would be hard to think of the location as anything but homey. Even the people are described as "kind" based on independent polls, so La Jolla neighborhoods are seen as the place to live in San Diego.
We have collected ten of the most gorgeous and welcoming La Jolla San Diego real estate areas for you to check out below. As you read ahead, you should be able to gain a much better understanding of the community known as La Jolla California with coastal views. This way you can have help choosing where exactly you want to call home.
The History of La Jolla Neighborhoods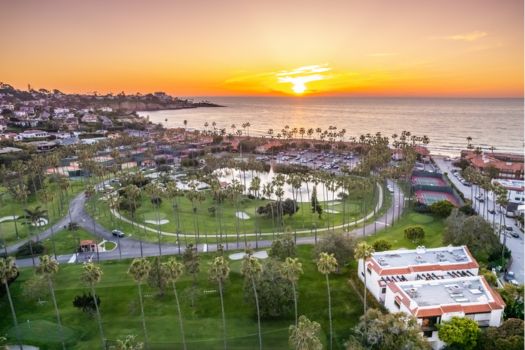 When California gained statehood in 1850, La Jolla was one of the locations incorporated into San Diego. The location remained undeveloped, though, until the 1880s. This is when a boom in real estate helped make the location popular.
In the 1890s, locals realized the resort possibilities of La Jolla. They built several entertainment venues around the area to help focus the area on this. Because of this, the tourist opportunities boomed and a tent city would form every summer to accommodate all the visitors.
Soon, investors built several hotels and other places to help the location develop even further. By 1900, the city had over 100 buildings and 350 permanent residents. Although, these numbers swelled during summer seasons when the place proved very popular.
The location has always been at the forefront of education, too. Its first elementary school opened to serve locals a few years before 1900. The residents have built several other schools in the meantime, with advanced and modern education a priority of the location.
Before the 20th century, La Jolla had a focus on culture. In 1894, new residents built a small art colony of twelve cottages that helped push their architect, Irvin Gill, to famed heights.
These cottages became a point of pilgrimage for those from far and wide who wanted a haven to practice their craft. The artists named it the "Green Dragon Colony," and the locals enjoyed the influx of new entertainment in the form of music and imagery.
It was not only the locals who took part, though. As La Jolla nestled between Los Angeles and San Diego, the location soon earned its fame for hosting many popular events.
La Jolla has not lost this artistic flair, though, and new art colonies are still made there to this day.
A 2023 Guide to La Jolla
The following are ten locations where you can bask in it's history and enjoy the contemporary joys La Jolla has to this day. You should be able to find out more about its residences online in neighborhood lists.
1. The Beach-Barber Tract
This location is well-known for being a laid-back area that people visit or live in for its serenity alone. The Beach-Barber tract sits against WindanSea Beach, a famed sunbathing and expert surfing spot. This makes it popular for locals and surfers alike.
This area is famous for its architecture. Small quaint cottages sit here, reminiscent of the English countryside. At the same time, across the road, you might find old Spanish homes more reminiscent of Mexican influence. While not common, this gives the location a unique look and character that is memorable for both visitors and long-term residents.
This location is so unique, that many of its homes are now registered historical landmarks. They cannot change their features and will keep their beauty for a long time to come.
La Jolla High School is a short distance away, making the area popular for families. At the same time, those who enjoy shopping often dip into The Village, a local commercial district, for their everyday needs.
The location is a mix of different residents. Around half are renters and half are homeowners. This means that you will always have an eclectic mix of neighbors, giving you a wide range of life experiences to draw on when you have needs of your own.
Local parks include Calumet Park, Francis, and Tourmaline Surfing Park. You can find outdoor entertainment and a relaxing atmosphere no matter your age or interests. Also, if you have children, they will enjoy these locations should you end up living here.
For those who prefer a sedate style of living, La Jolla even has its own hiking trail. Spend an evening walking in the great outdoors and appreciate a side of nature you rarely see.
2. Bird Rock
Local tales suggest that this neighborhood received its name due to a specific landmark that now decorates Bird Rock Avenue. As you might expect, this piece of history is a large rock that was once in the shape of a bird. Still, this dedication to celebrating history is a cornerstone of Bird Rock and the larger La Jolla neighborhood.
There are plenty of places to see and enjoy in this part of La Jolla. For both visitors and locals, Bird Rock contains a shopping center containing some of the best brands available in the area. On top of this, you can expect to find some of the city's most popular and well-rated restaurants.
Five of the best places in Birdrock to visit for food and drink include:
Wheat & Water: Dedicated to beer and pizza. This is perfect for a relaxed and celebratory evening, or if you want a fast, cheesy dinner.
Farm to Fork Juice: This smoothie venue provides both decadent and healthy drinks. But do not expect both to be possible in the same smoothie.
Bahia Don Bravo: Every group of restaurants needs its Tex-Mex entry to the food list. In this case, a casual and laid-back experience awaits you as you receive some high-quality meals.
Bird Rock Coffee Roasters: A perfect coffee place. They espouse their experience and award-winning brews but are not exaggerating.
Beaumont's: A perfect venue for live music while you enjoy your dinner with friends or even a date. Come for the food, stay for the ambiance.
3. Country Club
This region of La Jolla is right next to the region's country club itself. Thus the name of the neighborhood - La Jolla Country Club. When you come here, you can take a look at a gorgeous clubhouse and a wonderful golf course that will impress even the most experienced golfer.
This is an exclusive community, comprising several villas that sit on green hillsides. From each one, you should have a good view of a golfing fairway, leading to a beautiful, tended, natural view.
The houses around here enjoy the privacy of its community and a relaxed, coastal feeling to life. The views of the Pacific are to die for, and so many people go for long, scenic drives to see the views from the coast.
4. La Jolla Farms
If you are living in La Jolla, it is hard to miss the discussion about Black's Beach in La Jolla Farms. It is a perfect surf location and has been for decades because of the perfect waves in the area.
Once you get to the beach, you should be aware that some of it is clothing-optional. So do not be surprised to see some other local landmarks that you might not catch a glimpse of at other beaches.
The community itself sits above the shoreline and takes its name from the agricultural roots of the region. These days, such things are long in the past, and the region is dotted with mansions and other large homes. These buildings are forty or more years old these days, although are often renewed to ensure that they are state-of-the-art on the inside.
As the homes sit above the beach, you can expect beautiful views and unique evenings spent watching the coastline. At the same time, many of these houses boast swimming pools and other water features. So do not think you must trek down to the saltwater for an evening of relaxation.
5. La Jolla Shores
This guide to La Jolla would be incomplete without talking about the largest public beach in the area. La Jolla Shores sits right next to this place, giving you direct access to a popular and well-maintained entertainment spot.
On top of this, you can expect the neighborhood to include a small shopping area. This helps you feel fulfilled in your lifestyle without needing to travel too far.
If food and drink are more of your interest, you can always check out the local restaurants, too. The shopping area boasts fantastic eateries, including some that are world-famous.
6. La Jolla Heights
Homes in La Jolla Heights are not the center of attention like in other areas, this neighborhood has its benefits. It sits directly in the sweet spot between many other locations.
La Jolla Heights is close to a great many beaches, freeways, public service centers, and campuses. If you or your family are invested in education and healthcare, this is the place for you.
In general, the neighborhood is a great place for family-friendly ambiance and positive vibes.
7. La Jolla Village
Make sure you do not mistake La Jolla Village for the Village of La Jolla. This is located in the north of La Jolla itself and lies right up next to the University of California San Diego Campus.
The region has several different condo communities that have their own local moods. Between them, you can find several places to enjoy your life. The University Towne Shopping Center, movie theaters, and many other locations can ensure that things are never boring.
8. La Jolla Alta
This neighborhood has been recently built with the main purpose of offering its residents as much sunshine as possible. For that reason, every one of its homes faces south and west. As such, expect long and lazy evenings to dominate your life should you choose to move here.
La Jolla Alta also offers ocean views that assist with relaxing as the beach air rolls in on hot evenings. On top of this, many of the homes include large pools that act as entertainment hubs or calm centers of relaxation depending on your preference.
If being active is more your thing, the region has several tennis facilities, gyms, and clubhouses. Join an active group, network, and find like-minded people among the Alta community.
9. Muirlands North and West
This whole La Jolla Muirlands region was built to remind visitors and residents alike of the rolling hills of Europe. This location includes enough greenery to be scenic and natural, while not taking away from the homes themselves.
If you want to get away from it all, you also need not worry. A short drive away you can find the shopping centers of La Jolla as well as many picturesque beach experiences.
You have the option of green life under a blue sky or yellow sand by a blue sea. Both are enticing.
10. Village of La Jolla
Not to be mistaken for La Jolla Village, this place is defined by its commercial options. Come here to experience some of the best shopping that La Jolla has to offer, and you can enjoy several long evenings browsing at the stores here.
If you are more of a foodie, you can instead choose to check out some of the local restaurants and eateries. The Village of La Jolla boasts some of the best options for the whole region, so be sure to check them out.
Finally, the Village is a center of culture. The La Jolla Contemporary Museum of Art is only a short distance away, and the Athenaeum library displays a lot of beautiful music history.
The La Jolla Village neighborhood (where LUXURYSOCALREALTY specializes in) and the La Jolla Cove area, runs approximately along Torrey Pines to Prospect Street, to Coast Blvd to Pearl Ave, to High Ave. Shops and dining are along Girard including our Compass La Jolla office. Condos and townhomes in the village are primarily along Prospect, Eads Ave, Kline, Cave, Draper, and Pearl.
More on La Jolla Neighborhoods
Now that you know more about the La Jolla neighborhoods, it might be high time to choose where you want to start your new life in La Jolla. Lucky for you, our people are ready to help you do exactly that.
Our specialist team can talk to you about luxury locations for you to buy and move into. If you are ready to get started on your next step in life, it is maybe time to get in contact or check out the La Jolla real estate market. Give us a call today and begin your journey.