Everything You Need to Know About the La Jolla Lifestyle
Posted by Robert and Joy Aumann on Tuesday, August 8, 2023 at 12:21 PM
By Robert and Joy Aumann / August 8, 2023
Comment
La Jolla has grown rapidly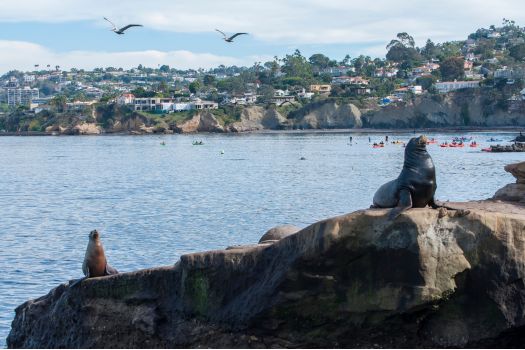 since Frank Bosford first discovered this magnificent place in 1886 and now boasts almost 50,000 full-time residents.
They flock here to enjoy an elite seaside lifestyle. This includes gorgeous scenery, easy access to excellent beaches, and high-end retail experiences on tap.
La Jolla's the domain of affluent retirees, tech billionaires, and upwardly mobile young executives. It has a reputation for being home to super-expensive properties but there are a few lower-key options available too.
Are you considering making a move to this vibrant upscale neighborhood? Discover more about the appeal of the La Jolla lifestyle here.
Living in La Jolla
Homes throughout La Jolla sells for top dollar, attracting a host of high-end clientele, so if you love life's little luxuries, you'll feel right at home here.
The area abounds with titillating stores, exclusive experiences, and money's-no-object experiences. Some of the best things to do in La Jolla include:
Superb Dining at La Jolla Restaurants
While you'll find all the usual diners and cafès in this part of the world too, there are a host of restaurants in La Jolla that offer fine dining and million-dollar views.
Some of the top spots to enjoy fine wines and exquisitely crafted meals include The Marine Room, Candor, Catania, and Eddie V's.
Spa Days in La Jolla
Nothing says 'luxury' quite like a pampering spa day overlooking ocean views. You'll always look and feel your best thanks to the wide range of top-class spas in La Jolla.
Try the award-winning spa at Estancia La Jolla for all-over skin renewal and rejuvenation. Cove Wellness offers soothing, holistic treatments that refresh body, mind, and soul, while La Jolla Cove Salon and Spa are ideal for a full-body makeover.
Challenging Golfing
Torrey Pines, La Jolla, is one of the world's finest golf courses, offering a 36-hole challenge to test even the most seasoned golfers. The likes of Tiger Woods and Barack Obama have enjoyed a round of golf here.
This beautifully designed municipal course hosts numerous championships throughout the year.
La Jolla Country Club isn't as famous as Torrey Pines but it still offers a pleasing 18-hole challenge for enthusiastic golfers. You'll also find many other golf courses in the area too, like Mission Bay Golf Course, The Fairmont Grand, and Fairbanks Ranch Country Club.
Nightlife in La Jolla
When night falls in La Jolla, party people head for downtown, where the cocktails flow and the lilting sounds of jazz fill the air. You could also catch a late-night comedy show.
If you want a classic dance-till-you-drop bright lights experience, it's best to head to nearby Downtown San Diego. La Jolla's more suited to those who want a refined, relaxed night on the town.
La Jolla Beaches
There are at least a dozen pristine beaches to enjoy in the La Jolla neighborhood. Some boast expansive sandy shores, while others provide intimate seclusion thanks to La Jolla's rugged, yet scenic coastline.
Some of the best beaches are:
La Jolla Shores beach for kayaking, sunbathing, and more

La Jolla Cove Beach for snorkeling, diving, and sunbathing

Marine Street Beach for romantic walks on pristine white sands

Black's Beach if you like all-natural sunbathing

Windansea Beach for the best waves in town
For a different view of La Jolla's magnificent shores, try a luxury yacht cruise from the San Diego bay.
The La Jolla weather creates abundant opportunities to make the most of this seaside abundance. Residents and visitors enjoy clear skies from June to October, and the temperature rarely drops below 44° F year-round.
If you'd love to live beside the seaside, La Jolla Shores is a great choice for you. Here you'll find large sea-facing luxury homes and access to wonderful oceanfront diversions.
This area's also home to the famous Scripps Institute of Oceanography and Birch Aquarium.
Work and Education in La Jolla
La Jolla's a hotbed of scientific minds and fascinating people thanks to the influence of the Scripps Institute, Salk Institute, and UCSD.
It's home to countless leaders in the intellectual realm and a hive of biomedical and scientific research.
Unsurprisingly, the area offers excellent educational opportunities for younger members of the community too. You can choose from some of the country's finest public and private schools when you live in this area.
The highly acclaimed Bishop's School and Evans School are here as well as the Preuss School UCSD, rated as the best in the San Diego area.
Major employers in La Jolla include prestigious educational institutions like the University of California and Scripps Institute. Many other residents work in oil and gas, shipping, and healthcare.
The employment rate's low in this area and most people in this area earn 82% more than the national average salary.
Arts and Culture in La Jolla
Arts and cultural activities abound in La Jolla too. It's home to world-famous festivals like 'Mainly Mozart' and also hosts regular Summer Concerts by the sea at Scripps Park.
Other musical enjoyments include the Summerfest concerts and the Music Society's year-round programs, attracting the finest musicians in every genre.
Some of the highly-acclaimed theatres in La Jolla include the La Jolla Playhouse, the birthplace of 'Rent' and 'The Jersey Boys' as well as the Old Globe Theatre where some of the world's best performers learned the ropes
Find Your Niche in La Jolla
If you're looking for a luxury lifestyle and laid-back flair, you can't go wrong when you choose to make your home in La Jolla.
There's no shortage of luxury condominiums, expansive mansions, and seaside villas to choose from in La Jolla.
Get in touch for more information and guidance on finding your ideal home in this dream destination.