The Ultimate Guide to La Jolla Architecture
Posted by Robert and Joy Aumann on Saturday, August 5, 2023 at 11:33:20 AM
By Robert and Joy Aumann / August 5, 2023
Comment
When you think about La Jolla, you probably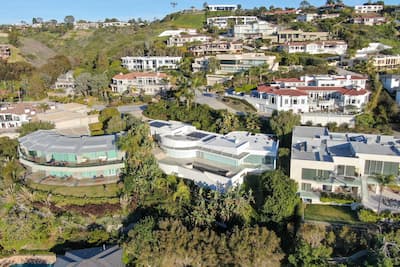 imagine seaside cliffs with waves crashing against the rocks. You may picture sea lions playing in the surf or the sun setting over the Pacific Ocean. But did you know that, in addition to the natural beauty, La Jolla is home to some of the most stunning architecture in the country?
The sweeping ocean views on the La Jolla coast have inspired architects to do their best work for decades. Read on to discover some of the stunning California architecture waiting for you in charming La Jolla.
Meet La Jolla's Architecture
Before we dive into the many historic houses that dot La Jolla, let's talk some about San Diego's overall architectural style. You might be surprised to learn that a large portion of La Jolla buildings are actually Victorian in style. The Gaslamp District in particular shows off this style of architecture, as do the buildings on Coronado Island.
Less surprising is the mission style that you'll find all over San Diego. This style emulates the Spanish missions and monasteries that were being established throughout the Southwest during the 18th and 19th centuries. You'll also find examples of American craftsman architecture, modern architecture, and Mediterranean revival throughout the city.
Split-Level Homes
When it comes to La Jolla architecture, there are a few different styles you see most commonly. Split-level homes became popular in the area after World War II, in part because of the rugged geography in the area. Split-level homes were originally designed to sit on a slope, with half of the house set into the hill.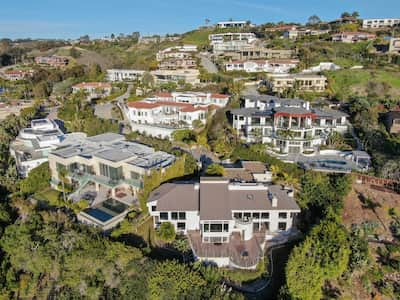 Split-level houses divide the living area into two floors, with the main level of the house staggered between the upper and lower floors. These homes tend to have a garage on the lower level and stairs that lead up to the front door and the main level. You'll find these homes most commonly in the Mount Soledad neighborhood of La Jolla.
Ranch-Style Homes
Ranch-style homes are another relic of the post-war era, gaining popularity in San Diego in the 1950s and 60s. Where split-level houses were designed to save space on a house's footprint, ranch-style homes celebrated the prosperity that followed World War II. These homes were single-story spread out on sprawling suburban lots.
Ranch-style homes tend to be somewhat understated on the exterior, maintaining a very sensible style that reflects the families who originally built them. These homes tend to be very wide, creating a low profile that unfolds across relatively large lots. They may have spacious front and back yards and center around a very functional living style.
Postmodern Homes
Postmodern homes are a departure from the very functional split-level and ranch-style homes we've discussed so far. These homes are all about bold statements and styles that are almost transgressive. They may use abstract décor both indoors and outside, and lines on the house tend to be bold and unusual.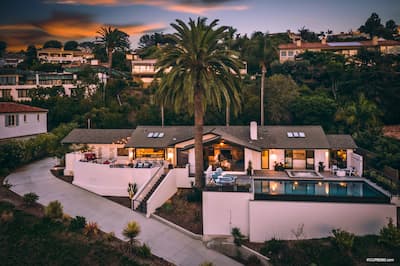 One of the things that made this style so popular in La Jolla is the large windows that characterized these houses. Of course, there are few places in the country that offer the kind of stunning views La Jolla does. So the large windows and industrial materials provided the perfect framing for the gorgeous seascapes the city has to offer.
Spanish-Style Homes
Spanish-style homes in La Jolla are almost self-explanatory, thanks to the heavy Spanish influence in the region. And while La Jolla has its fair share of mission-style architecture, there's actually an interesting offshoot of this style. The Spanish revival style is something of a callback to the earlier colonial days of the area.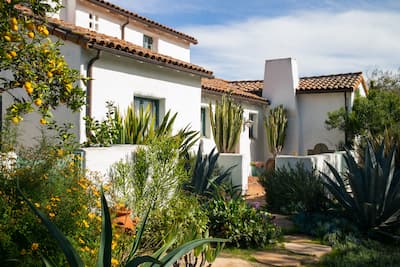 Unlike the pristine exteriors of the missionary style, the Spanish revival style uses a lot of ornamentation on the outside of houses. They have stucco exteriors to battle the ferocious heat of the Southwest and large rooms built for entertaining. Interior stylings often include wrought iron accents, patterned tile floors, and lots of archways.
Sundial
The Sundial House is one of the most classic architectural wonders in La Jolla residences. The home was designed by renowned architect Chong Wan "CW" Kim as his own personal residence. Not only did Kim live out his days here, but he also called Sundial his "finest and most personal work of art" – nothing to sneeze at, considering he also designed the Emerald Plaza in downtown San Diego.
Sundial got completed in 2000 and sits on a lot with stunning views of the Pacific Ocean. Kim designed every piece of the house to celebrate those views, with a unique curved style of architecture, including the curved beam ceilings. The home is 6,700 square feet and includes a wine cellar, a sauna, and a spacious office wing.
The Ora House
The Ora House is a new addition to the La Jolla coastline, but it's already making its mark. This mansion is a modern masterpiece and, in fact, may become the most expensive home ever sold in the city. The house was listed at more than $32 million when it went on the market earlier this year, and it's no mystery why.
The Ora House was built by Blue Heron's Elite division and looks like Tony Stark's stunning home in the Iron Man movies. They designed the home to "enhance the flow of life while creating an overall sense of peace and natural wellbeing." It spans close to 9,000 square feet and includes such luxuries as a cascading waterfall, a spa, and a partially covered sky deck.
The Razor House
The Razor House is possibly the most striking home on the La Jolla skyline. The home is the masterpiece of architect Wallace E. Cunningham and took five years to complete. "Breathtaking" doesn't begin to cover the impact of this home, which is built from white polished concrete and floor-to-ceiling glass that gives it its nickname.
The Razor House is an 11,000-square-foot expanse situated above the Torrey Pines State Reserve. It includes four bedrooms, six bathrooms, and a two-story guest house with private beach access. There's also a subterranean garage that can hold upwards of six cars and a deck that would make Malibu Barbie weep.
Seiche
Seiche is one of just four La Jolla homes that are on the National Register of Historic Places. The home was completed in 1954 and was designed by Judith Munk for herself and her husband, Walter Munk. Walter was a renowned oceanographer whose work earned him the National Medal of Science, the Kyoto Prize, and an induction into the French Legion of Honor.
Seiche was named for a French oceanographic term that describes "a standing wave oscillating in a body of water." Appropriately, the home sits on a mesa overlooking the Pacific Ocean just above Sumner Canyon and Black's Beach. The home is nearly 3,500 square feet and features an open floor plan, large expanses of glass, and private gardens surrounding the house.
Martha Kinsey Residence
Martha Kinsey was a top-level tennis player in the early twentieth century whose home in La Jolla has become a central part of her legacy. She commissioned Lilian J. Rice to build the home in 1937, and it now has the distinction of joining Seiche on the National Register of Historic Places. Lilian Rice also designed a number of other houses in the Rancho Santa Fe area, as well as the Robinson house, also located in La Jolla.
The Kinsey Residence was something of a departure from Rice's usual Spanish-influenced style. Instead, the home uses a Moderne Movement style that features strong geometric lines and a unique raised footprint. The house features a long, low profile and was, in fact, one of the last homes Rice designed before her death in 1938.
Case Study Houses 23 A and C
The other two La Jolla homes on the National Register of Historic Places are an interesting set belonging to a series called the Triad. In the 1940s, John Entenza, editor and publisher of Arts & Architecture magazine, started an organization called the Case Study House Program. This program commissioned prominent architects to design prototype single-family homes that would test new concepts in residential architecture.
The Case Study Program designed thirty-six houses between 1945 and 1966, twenty-four of which got built. While most of the homes were in the Los Angeles area, Case Study Houses 23 A, B, and C were built in La Jolla. Today, only A and C qualify for the historic register, since B has been renovated too much in the intervening years.
6210 Camino de la Costa
6210 Camino de la Costa may not have the same catchy nickname as some of the houses on this list do, but it absolutely has the same architectural flare. This gorgeous mansion was built in 1939 by architect Richard S. Requa, the same person who designed Balboa Park's Old Globe. The home is almost 10,000 square feet and most recently sold for around $13 million, although its current value may be more than $20 million.
This home has seven bedrooms, eight and a half baths, a sauna, a gym, a catering kitchen, and a wine vault. It has dramatic views of the Pacific Ocean from the peak of the cliff it sits atop, and best of all, you can enjoy those views from your own private pool. There's also a guest casita, making this the perfect house for entertaining.
7400 Vista del Mar
7400 Vista del Mar is a Mediterranean paradise on the California coast that cuts a stunning silhouette. The house sits directly on Marine Street Beach and features a façade of soaring white columns and elegant arches. The entire back of the house consists of floor-to-ceiling windows so you can drink in the ocean views.
This home was designed by Don Edson, an architect who specializes in regional design. It features seven bedrooms, ten bathrooms, a rooftop spa, and an indoor movie theater. The house is more than 8,000 square feet and offers the kind of ocean access most of us can only dream about waking up to.
7007 Country Club Drive
7007 Country Club drive feels less like a house and more like a private resort. This estate, built in 1959, features elements of French design and is, in fact, the largest contiguous residential property in La Jolla. It has hosted such prestigious guests as Richard Nixon and is a whopping 23,000 square feet.
This home was built in 1980 and, until now, was owned by the same family that built it. It is currently on the market at a list price of $49 million, which works out to about $2,100 per square foot. It features a spa, stunning parquet floors, crystal chandeliers, an expansive kitchen, a game room, a library, a pool, and an outdoor bar, among other things.
Discover More California Architecture
La Jolla is famous for its stunning natural views, but some of the architecture in the area could rival even the beauty of nature. From the Sundial house to Seiche, you can find breathtaking architectural designs. Many of these homes are built to take full advantage of the ocean views, and all play an important role in shaping the landscape of La Jolla.
If you'd like to discover more about California architecture, check out the rest of our site at LUXURYSOCALREALTY COMPASS. We are here to help you start your journey home with off-market MLS listings. Contact us today to discover some of the most beautiful homes available on the La Jolla market.